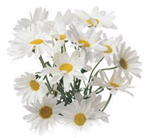 Roman Chamomile
Introduction
This fact sheet provides basic information about Roman Chamomile. Roman chamomile, a member of the daisy family, is native to Europe and western Asia. While very popular, roman chamomile is not as popular as
German chamomile
which is the most commonly used of the chamomile species. The dried and fresh flowers of roman chamomile are used medicinally.
Chamomile is used cosmetically, primarily to make a rinse for blonde hair, and is popular in aromatherapy, whose practitioners believe it to be a calming agent to end stress and aid in sleep.
Common Names
Roman Chamomile, Garden Camomile, Ground Apple, Low Chamomile, English Chamomile, Whig Plant
Latin Names
Anthemis nobilis
What It Is Used For
Commonly used for relaxation and sleep in the United States, Chamomile is popular as an evening tea. It is also used for nausea, vomiting, stomach cramps, gas, and motion sickness.
How It Is Used
As a tea soak 4 tsp of dried flowers in 6oz of hot water for 10 minutes. Remove the flowers. Drink one cup up to 4 times a day.
As an extract take 1 -4 ml three times a day.
Topically use the tea and apply as needed. Creams and ointments are available in Europe and South America.
What the Science Says
Chamomile has not been evaluated by the FDA for safety, effectiveness, or purity. All potential risks and/or advantages of chamomile may not be known.
Side Effects and Cautions
Although uncommon, serious side effects have been reported with the use of chamomile.
Sources